Gosnell Elementary will be celebrating the 100th day of school tomorrow, Monday, Feb. 6th.

Gosnell Schools will be closed Wednesday February 1, 2023. AMI Day 2 work needs to be completed.

Reminder Mom Prom is tomorrow night from 6-7:30. Tickets will be sold at the door $10 per person.

We reached our goal for the canned food drive!!! 5,737 cans/dried goods! Way to go GES! Parents thank you for your support with this project. You are the reason it is a SUCCESS!! Proud to be a Pirate!

Today is the last day for our canned food drive. Please remember to send cans to school today with your child. Thank you!

Our Annual Mom Prom is scheduled for Thursday, Dec. 8th, 6 - 7:30pm. Invitations have been sent home with all elementary boys. Tickets are on sale now for $5 per person. Tickets will be $10 per person at the door.

Reminder this week is our annual canned food drive to help Gosnell Baptist Church provide Christmas Baskets to families in need at Christmas time. Send canned food or dried goods to your child's class. Class with the most cans wins a Glow party.

Today is Parent Day. GES is celebrating all our Parents. Thank you for your support of our school! Pirate Parents are the BEST!!

Gosnell School District awarded "Big Business of the Quarter" by the Mississippi County Chamber of Commerce!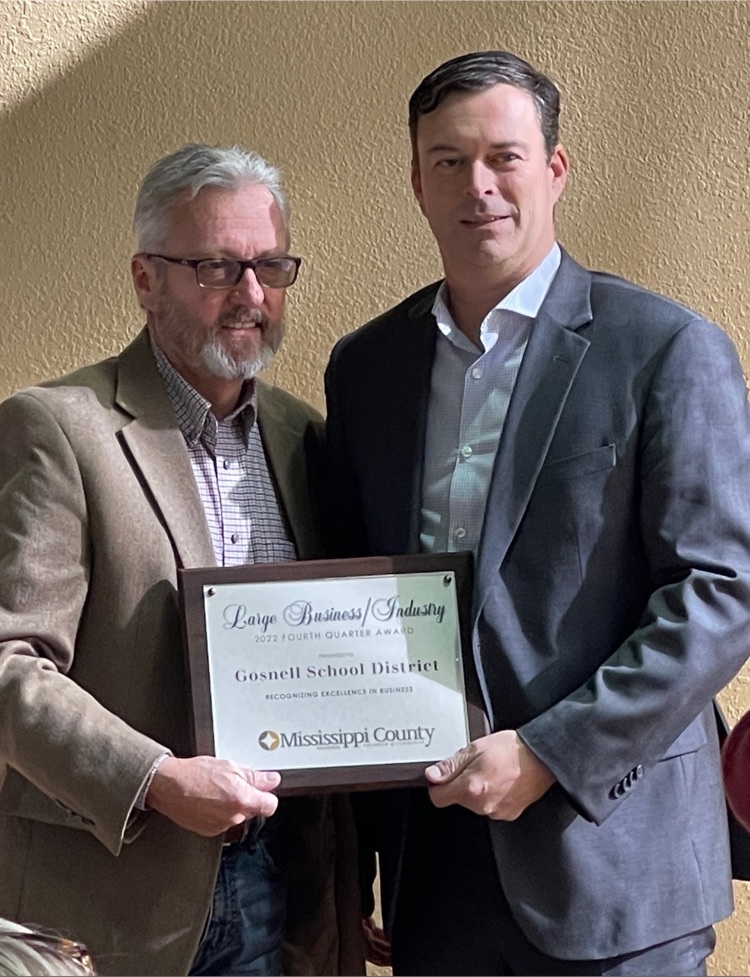 SAVE THE DATE - MOM PROM - THURSDAY DECEMBER, 8th 2022 Let's make this year the best MOM PROM EVER!!!!!!!!!!!!!!!!!!!!!

Reminder after school tutoring starts today. Pick up time is 4:15.

Gosnell Elementary is looking for a Lunchroom Monitor/Teachers Aide. Anyone interested can sign up through ESS/Subteach for this position. We are needing someone to start immediately.

Reminder today is the first day of elementary cheer clinic, pick up is at 4:45 in the high school gym.

Elementary Basketball Camp for students in grades 3-6 on Oct. 4, 5, & 6. Letters went home with students. Forms can be turned in office.

Grandparents Day Breakfast Monday, September 12th at 7:40-8:00am. All grandparents are welcome to come eat breakfast with us. Adult trays are $2. Hope to see you there!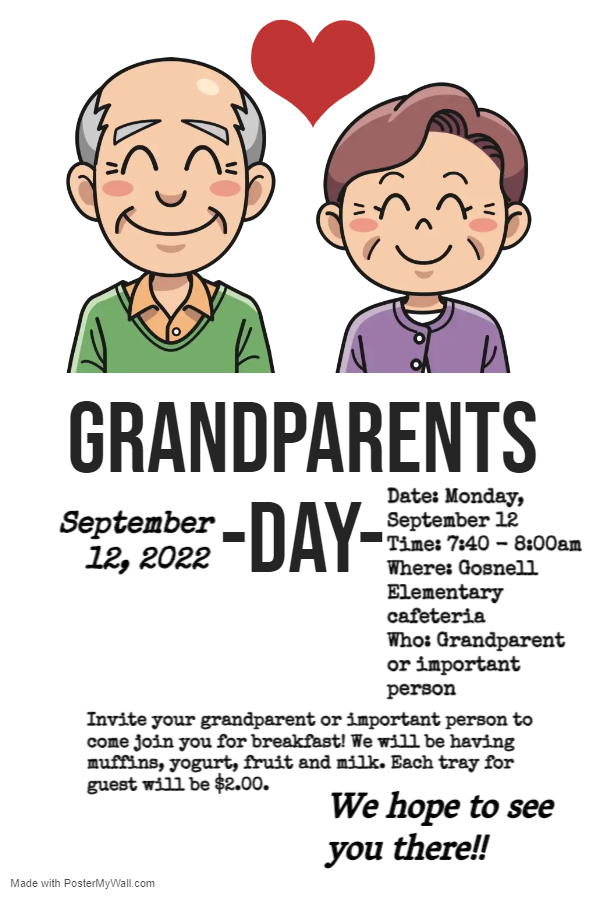 I love all my goodies from the Economic Fair!! 6th grade you did an amazing job!! Proud to be a Pirate!!!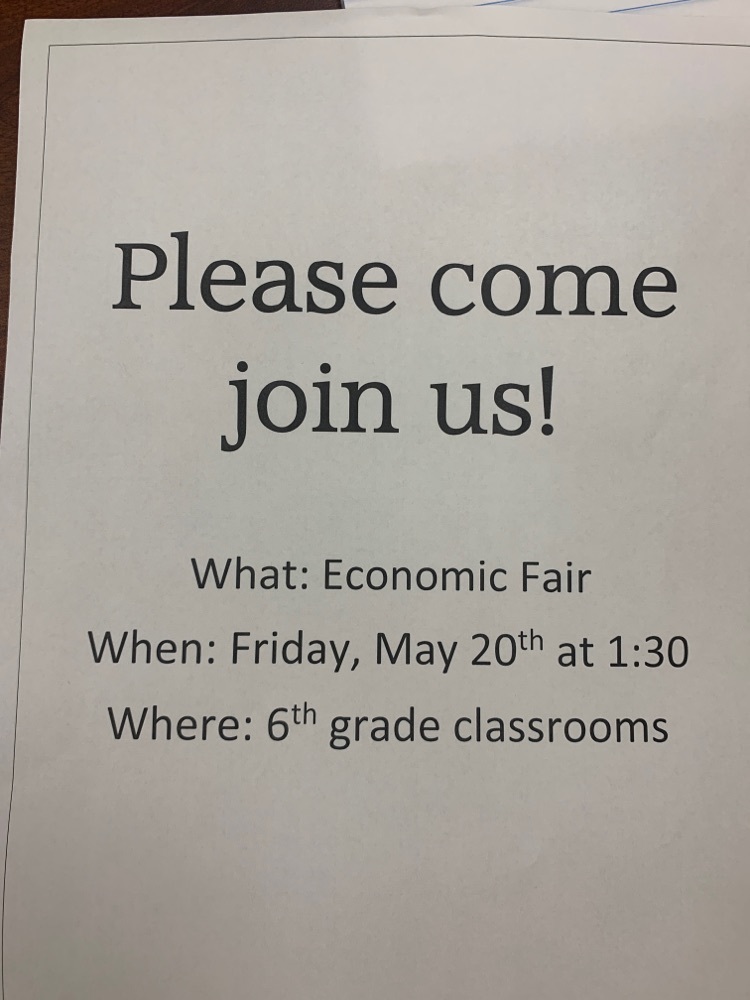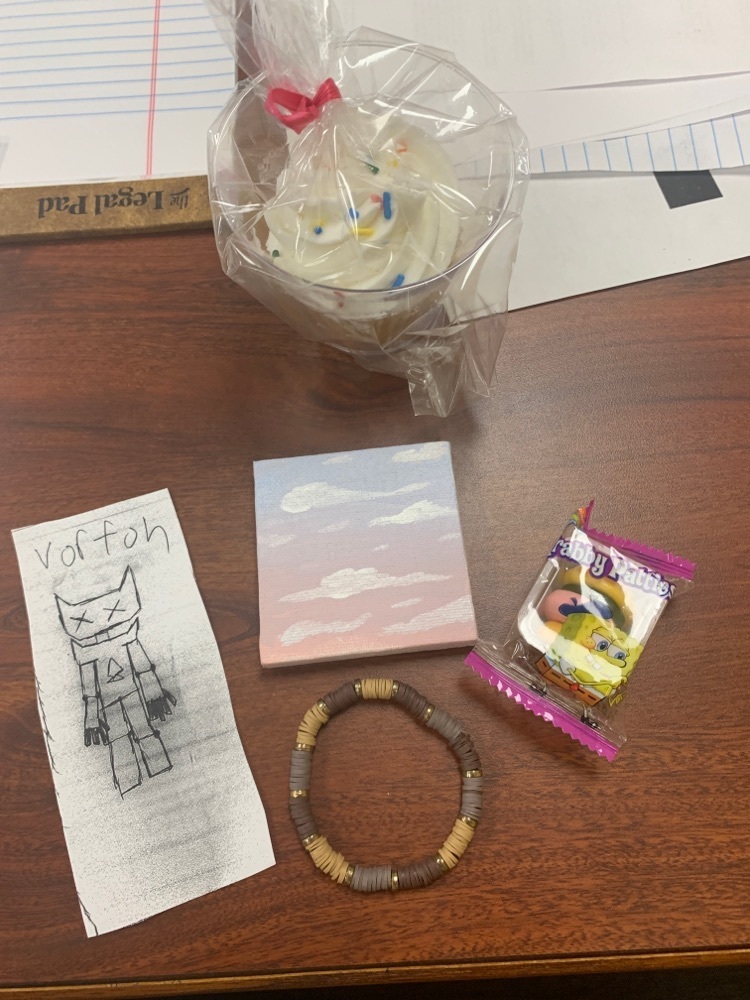 Gosnell Elementary is inviting all parents or legal guardians of children who will be entering Kindergarten for the 2022-2023 school year to Kindergarten Registration on MONDAY, April 25, TUESDAY, April 26, & WEDNESDAY, April 27. Come to the elementary office to register. *Child must by 5 years old by August 1, 2022. BRING THESE 5 DOCUMENTS WITH YOU: 2 Current Utility Bills -Proof of Residency in Gosnell Birth Certificate Social Security Card Shot Record Kindergarten Physical or any physical in the past year ALL DOCUMENTATION MUST BE PRESENTED AT TIME OF REGISTRATION FREE BACKPACK WHEN REGISTRATION IS COMPLETE

Donuts with Grownups at the elementary on Tuesday April 19th from 7:30-8:00 am.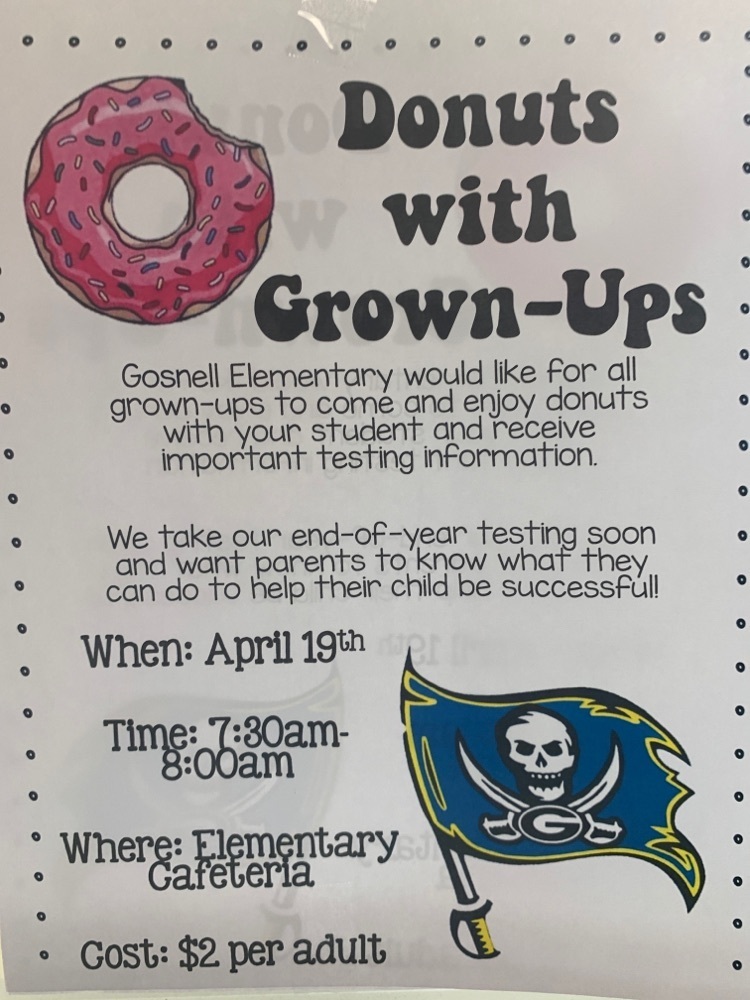 The Gosnell School District is accepting applications for the following position: Elementary (K-6) Teacher This is for the 2022-23 school year. All applicants must be certified to teach and hold a current Arkansas teaching license. The contact person is Tiffany Kennemore. Applications can be picked up at the Administration Office or found on the district's website
https://www.gosnellschool.net/page/employment
. Applications will be taken until the position is filled and may be faxed to (870) 532-4033 or sent to Mrs. Kennemore at Gosnell Elementary School, 600 Hwy 181, Gosnell, AR 72315. The Gosnell School District is an equal opportunity employer.

Kindergarten Registration for the 2022-23 school year will be April 25, 26, and 27. If you have a child who will be 5 by August 1, 2022, he/she needs to be enrolled in kindergarten. Bring proof of residency, social security card, birth certificate, shot record, and a recent physical (within the past year). Free backpacks for each complete registration.